Profile
---
Teaching
Students
Current
Jonathon Luiten (master thesis)
Hendrik Gruß (master thesis)
Valentin Steiner (bachelor thesis)
Michael Krause (hiwi)
Bin Huang (hiwi)
Past
Publications
---
Accepted for IEEE Int. Conference on Robotics and Automation (ICRA'18), to appear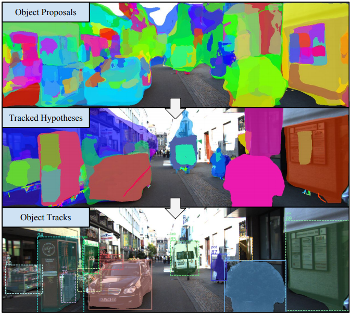 The most common paradigm for vision-based multi-object tracking is tracking-by-detection, due to the availability of reliable detectors for several important object categories such as cars and pedestrians. However, future mobile systems will need a capability to cope with rich human-made environments, in which obtaining detectors for every possible object category would be infeasible. In this paper, we propose a model-free multi-object tracking approach that uses a category-agnostic image segmentation method to track objects. We present an efficient segmentation mask-based tracker which associates pixel-precise masks reported by the segmentation. Our approach can utilize semantic information whenever it is available for classifying objects at the track level, while retaining the capability to track generic unknown objects in the absence of such information. We demonstrate experimentally that our approach achieves performance comparable to state-of-the-art tracking-by-detection methods for popular object categories such as cars and pedestrians. Additionally, we show that the proposed method can discover and robustly track a large variety of other objects.
» Show BibTeX
arXiv:1805.04398

Deep learning requires large amounts of training data to be effective. For the task of object segmentation, manually labeling data is very expensive, and hence interactive methods are needed. Following recent approaches, we develop an interactive object segmentation system which uses user input in the form of clicks as the input to a convolutional network. While previous methods use heuristic click sampling strategies to emulate user clicks during training, we propose a new iterative training strategy. During training, we iteratively add clicks based on the errors of the currently predicted segmentation. We show that our iterative training strategy together with additional improvements to the network architecture results in improved results over the state-of-the-art.
arXiv:1712.08832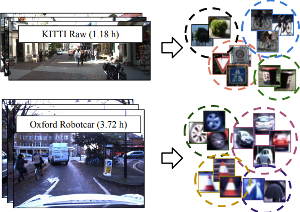 We explore object discovery and detector adaptation based on unlabeled video sequences captured from a mobile platform. We propose a fully automatic approach for object mining from video which builds upon a generic object tracking approach. By applying this method to three large video datasets from autonomous driving and mobile robotics scenarios, we demonstrate its robustness and generality. Based on the object mining results, we propose a novel approach for unsupervised object discovery by appearance-based clustering. We show that this approach successfully discovers interesting objects relevant to driving scenarios. In addition, we perform self-supervised detector adaptation in order to improve detection performance on the KITTI dataset for existing categories. Our approach has direct relevance for enabling large-scale object learning for autonomous driving.
» Show BibTeX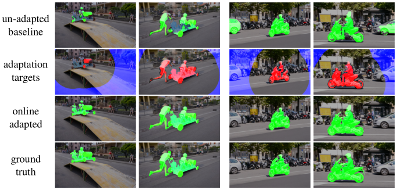 We tackle the task of semi-supervised video object segmentation, i.e. segmenting the pixels belonging to an object in the video using the ground truth pixel mask for the first frame. We build on the recently introduced one-shot video object segmentation (OSVOS) approach which uses a pretrained network and fine-tunes it on the first frame. While achieving impressive performance, at test time OSVOS uses the fine-tuned network in unchanged form and is not able to adapt to large changes in object appearance. To overcome this limitation, we propose Online Adaptive Video Object Segmentation (OnAVOS) which updates the network online using training examples selected based on the confidence of the network and the spatial configuration. Additionally, we add a pretraining step based on objectness, which is learned on PASCAL. Our experiments show that both extensions are highly effective and improve the state of the art on DAVIS to an intersection-over-union score of 85.7%.
» Show BibTeX
The 2017 DAVIS Challenge on Video Object Segmentation - CVPR Workshops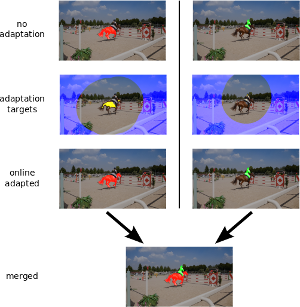 This paper describes our method used for the 2017 DAVIS Challenge on Video Object Segmentation [26]. The challenge's task is to segment the pixels belonging to multiple objects in a video using the ground truth pixel masks, which are given for the first frame. We build on our recently proposed Online Adaptive Video Object Segmentation (OnAVOS) method which pretrains a convolutional neural network for objectness, fine-tunes it on the first frame, and further updates the network online while processing the video. OnAVOS selects confidently predicted foreground pixels as positive training examples and pixels, which are far away from the last assumed object position as negative examples. While OnAVOS was designed to work with a single object, we extend it to handle multiple objects by combining the predictions of multiple single-object runs. We introduce further extensions including upsampling layers which increase the output resolution. We achieved the fifth place out of 22 submissions to the competition.
» Show BibTeX
IEEE International Conference on Acoustics, Speech, and Signal Processing (ICASSP), New Orleans, USA, March 2017
In this work we release our extensible and easily configurable neural network training software. It provides a rich set of functional layers with a particular focus on efficient training of recurrent neural network topologies on multiple GPUs. The source of the software package is public and freely available for academic research purposes and can be used as a framework or as a standalone tool which supports a flexible configuration. The software allows to train state-of-the-art deep bidirectional long short-term memory (LSTM) models on both one dimensional data like speech or two dimensional data like handwritten text and was used to develop successful submission systems in several evaluation campaigns.
» Show BibTeX
IEEE International Conference on Acoustics, Speech, and Signal Processing (ICASSP), New Orleans, USA, March 2017
Recent experiments show that deep bidirectional long short-term memory (BLSTM) recurrent neural network acoustic models outperform feedforward neural networks for automatic speech recognition (ASR). However, their training requires a lot of tuning and experience. In this work, we provide a comprehensive overview over various BLSTM training aspects and their interplay within ASR, which has been missing so far in the literature. We investigate on different variants of optimization methods, batching, truncated backpropagation, and regularization techniques such as dropout, and we study the effect of size and depth, training models of up to 10 layers. This includes a comparison of computation times vs. recognition performance. Furthermore, we introduce a pretraining scheme for LSTMs with layer-wise construction of the network showing good improvements especially for deep networks. The experimental analysis mainly was performed on the Quaero task, with additional results on Switchboard. The best BLSTM model gave a relative improvement in word error rate of over 15% compared to our best feed-forward baseline on our Quaero 50h task. All experiments were done using RETURNN and RASR, RWTH's extensible training framework for universal recurrent neural networks and ASR toolkit. The training configuration files are publicly available.
» Show BibTeX

Multidimensional long short-term memory recurrent neural networks achieve impressive results for handwriting recognition. However, with current CPU-based implementations, their training is very expensive and thus their capacity has so far been limited. We release an efficient GPU-based implementation which greatly reduces training times by processing the input in a diagonal-wise fashion. We use this implementation to explore deeper and wider architectures than previously used for handwriting recognition and show that especially the depth plays an important role. We outperform state of the art results on two databases with a deep multidimensional network.
» Show BibTeX
IEEE International Conference on Acoustics, Speech, and Signal Processing (ICASSP), Brisbane, Australia, April 2015
We investigate sequence-discriminative training of long short-term memory recurrent neural networks using the maximum mutual information criterion. We show that although recurrent neural networks already make use of the whole observation sequence and are able to incorporate more contextual information than feed forward networks, their performance can be improved with sequence-discriminative training. Experiments are performed on two publicly available handwriting recognition tasks containing English and French handwriting. On the English corpus, we obtain a relative improvement in WER of over 11% with maximum mutual information (MMI) training compared to cross-entropy training. On the French corpus, we observed that it is necessary to interpolate the MMI objective function with cross-entropy.
» Show BibTeX